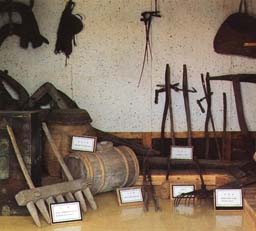 Displayed in the halls are relics taken from real life such as farming tools for cultivating rocky fields, scuba clothing for haenyo, rainwear, grinding stones, and millstones used by horses.
In the garden is a thatched roof house made of tangerine trees.
Various books on the Jeju folk customs which are not available off the island can be purchased in the museum.
The Jeju folklore museum serves as a guide to trace the unique and traditional past lifestyle of Jeju islanders which has mostly been extinguished.It is situated at the side of the circulation road in Samyang
-dong, Jeju City. 20 minutes by bus from the bus terminal.