The 23rd Chindo Yongdung Festival
May 3 ~ May 6, 2000
---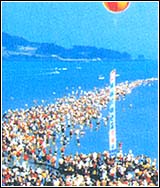 If your want experience of crossing from one island to another on dry land, do not miss this festival.
It is held at the time when tide drops six or seven meters to part the sea between Chindo and Modo Islands, often compared to Moses' miracle.
Admiring this eye-opening, spectators walk across the seabed gathering brown seaweed, turban shells, clams, octopus and various preth shells.



---
period :

May 3 ~ May 6

Venue :

Kagye beach in Chindo-gun, Chollanam-do province
---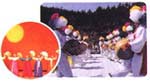 Main Events
Sea parting, Youngdungsalp'uri; a shaman rite to exorcise evil spirits, Tashiraegi; the mourner's entertainment performed the night before a burial, kanggangsuwollae;a circle dance chorus of girls or women, Namdo Tullorae; farming songs of Chindo region, Namdo Manga; pall-bearers dirge, ship parade, chindo dog show