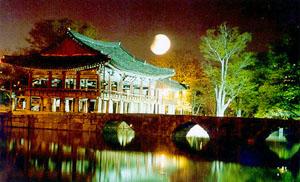 ---
Gwanghallu pavilion began as
a small pavilion, Kwangt'ongnu, and was built in 1419, during the reign of King Sejong of the Choson Kingdom.
Enchanted by the fascinating landscape, the governor of Cholla-do Province,Chong In-chi, renamed the pavilion
in 1444 to"Gwanghallu", or a pavilion in a moon palace. On the grounds of 69,000 square meters are pavilions and building around Gwanghallu (Treasure No. 281) such as Choonhyangsa Shrine, the Wolmae House, Wanwoljong and Ojakkyo (magpie) bridge built in 1462.
The Kwanghalluwon Garden is known as the place where Yi Mongnyong, the hero of the famed novel "Choonhyangjon", met his sweetheart, Choon-
hyang. A portrait of the heroine Choonhyang is enshrined in Choonhyangsa which was built in 1920. An annual festival is held on May 5th.

---