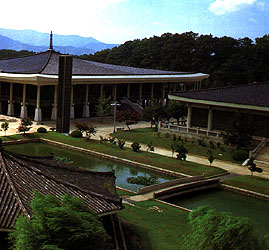 Gyeongju National Museum is the essence of the Silla culture in general with 2,500 artifacts including the prehistoric relics and the Buddhist artifacts on display and 80,000 in storage.

In 1910 a group of Gyeongju residents formed the Silla Gyeongju Society in an effort to preserve historic sites and relics in and around Gyeongju. It was expanded and renamed the Gyeongju Historical Association in 1913 at which time it made an old Joseon period government guest house into an exhibition hall for displaying relics.

In 1921 Gyeongju began to attract both domestic and international attention when a gold crown and many other relics were discovered during the excavation of a royal tomb, which was later named Gumgwanchong Tomb, meaning Gold Crown Tomb. From that time, the exhibition hall was used to display relics from the tomb and began to be called Gumgwan-go, meaning Gold Crown Hall.

It became the Gyeongju Branch of the Japanese Colonial Government Museum in 1926. With Korea's independence in 1945, the Museum was reorganized as the Gyeongju Branch of the National Museum.

Because of the growing number of historic relics and artifacts excavated in the Gyongju area, new museum facilities including a main building and an annex were constructed on a 66,000 square meter area in 1975. At that time, the museum status was elevated and it was named the Gyeongju National Museum. A second annex building was opened in 1895 to display relics recovered during the excavation of Anapji Pond.

The museum consists of the main building, Annex 1 and Annex 2. Over 80,000 artifacts and relics are kept in the museum, but only 2,500 items or so are on constant display. The main building consists of three exhibition rooms. Artifacts from Prehistoric to Proto-Three Kingdoms Period are exhibited in Prehistoric & Proto-Three Kingdoms Room; sculptures, tiles, metal crafts, and stone monuments are exhibited in the Arts & Crafts Room and artifact donated from Dr. Lee Yangseon are exhibited in the Gugun Collection.