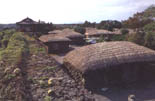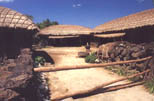 The area of Seongup-ri, Pyosonmyon, NamJeju-gun still remains as a typical eastern mountain village, and is home to a number of cultural treasures, both tangible and intangible. It was designated as important Cultural Property No. 188 and is safeguarded by the provincial government. In the village, there are about 3,000 thatched roof houses with stone and clay walls in which villagers still live.
Hyangyo, Dolharubang, old government building and tomb stones are also located there.
The unique characteristics of the mid-slope mountain village that can be found in Seongup Folk Village are folk songs, tradition foods, craftmanship and the provincial dialect. In addition, designated natural monuments of tall old trees supplement the village image.