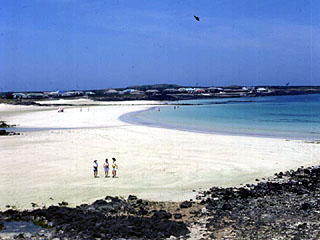 This island was named after its shape, which is of a cow lying down or the head of a cow. Located 3.5km northeast of Seongsanpo, it takes 15 minutes from Seongsan port. The southern part of the island is called the 'Gwangdaekoji' where a cave is located. When sun shines through the cave and it reflects on the ceiling, it looks just like a rising moon, a magnificient sight to enjoy. This is called 'Talgrian' or 'Day Moon' and is the best sight among 8 beautiful scenes of Woodo not to be missed.
In order to see the 'Talgrian', appropriate timing is necessary as the sun shines through the cave around 12 noon.
Woodo has a coral sand beach. The beach can be reached by taking a passenger boat (5-6 round trips a day) for 15 minutes or by car.